It's a new year and time to start accomplishing new goals!
We at Smart Garage hope you had a great holiday break and are now re energized to start tackling your home renovation projects. If organizing your messy garage was on your list of to-dos don't hesitate to check out the top 10 tips for organizing your garage below!
1. Wall optimization is essential.
Cabinets, racks and shelving will assure things are stored away properly.
2. Pegboards
Great for small, unusually shaped objects that are used often. Hook placement can be customized to your needs and changed easily as those needs evolve.
3. Magnetic 'knife' strips –  to organize commonly used, metallic objects.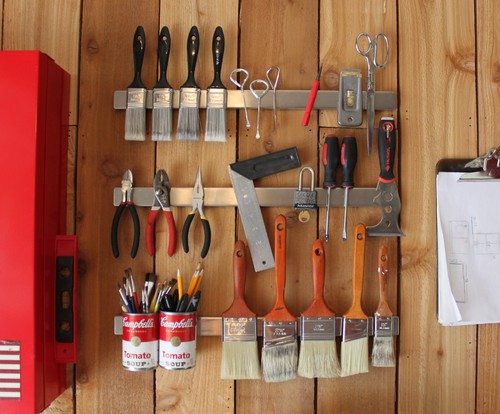 4. Don't forget to look up!
The space on your ceiling should be utilized for optimal storage capacity (if you have a garage door like ours that allows it). Make sure to install this load-bearing storage safely and consult a professional if you're not sure.
5. Keep things off the ground.
We've said it before, but this will keep your valuables from moisture and mildew issues that garage's can be prone to.
6. Add a workstation.
If you work often on a particular type of project, personalize a space for it. Keep the tools and supplies you need most often stored close to make using the space more convenient.
7. Keep it light and clean.
Choose surfaces that are water resistant and easy to wipe down.  Storage units in whites, woods and metallics can help to keep the space bright and open. This is of utmost importance as most garage's don't contain a lot of windows.
8. Task lighting.
As mentioned in the previous point, light can be challenging in the garage. Installing task specific lighting can help to make the workspace more functional and project-friendly.
9.  Don't forget the floor!
An epoxy coating or concrete finish can save your floor from spills and stains and make cleanup a breeze.
10. Think outside the box!
This space is fun to make customizable to your particular needs. Be open to unique ideas that make it work the best for you.
All photos in this article were graciously provided bw Houzz.com.